NEWS
/
In the Press | Wallpaper*
In the Press | Wallpaper*
April 6, 2023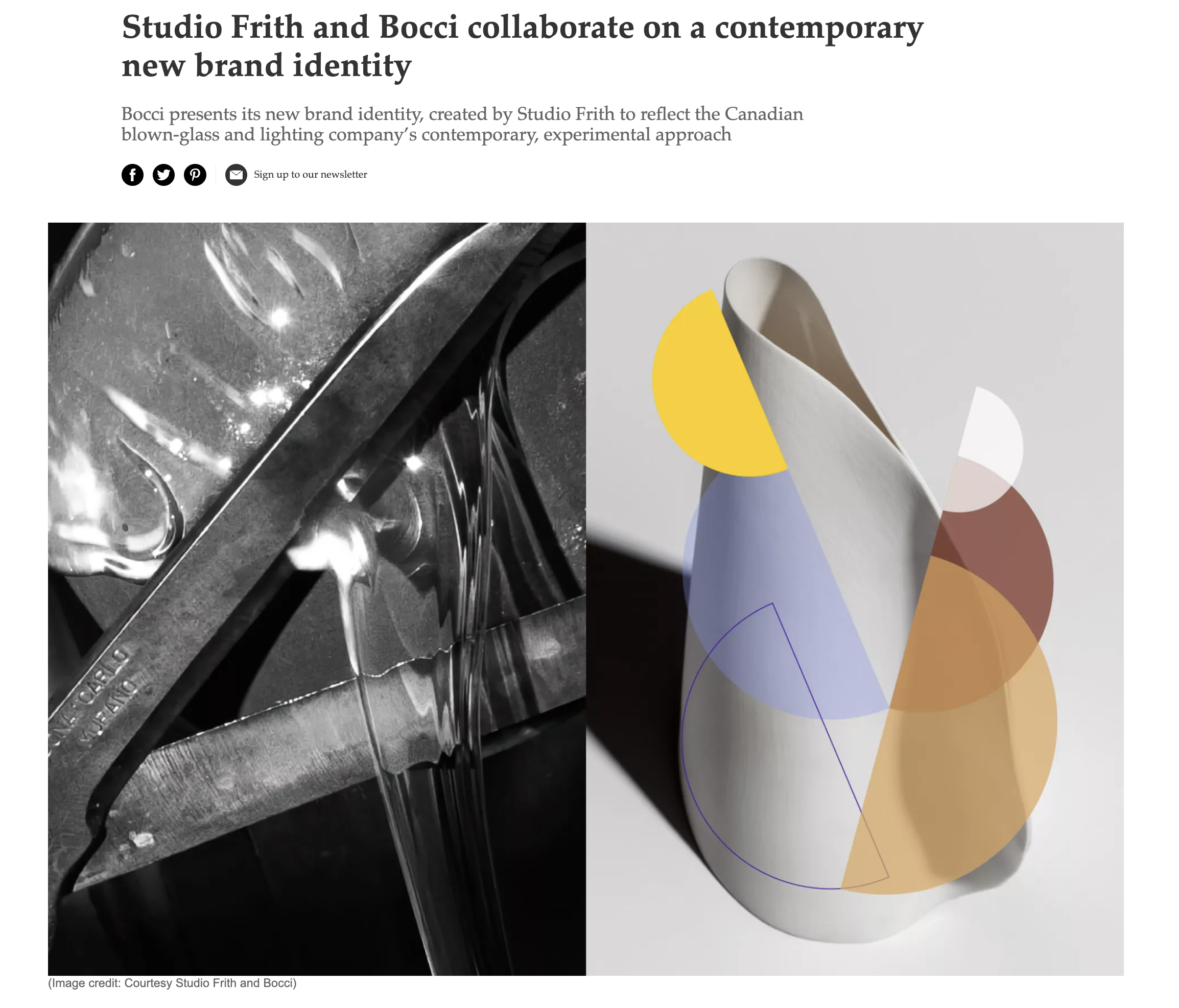 Studio Frith and Bocci collaborate on a contemporary new brand identity
Bocci presents its new brand identity, created by Studio Frith to reflect the Canadian blown-glass and lighting company's contemporary, experimental approach

Vancouver- and Berlin-based blown glass and lighting specialist Bocci unveils a new brand identity, a contemporary new guise for the company created by London's Studio Frith.
Founded in 2005 by Omer Arbel, a multi-hyphenate creative operating in the fields of design, architecture, sculpture and innovation, Bocci has always been a project mixing traditional craftsmanship with contemporary design codes and artistic vision. The company's output includes practical lighting as well as large-scale, ambitious artistic lighting installations, both created by skilled artisans and conceived by Arbel.
The new logo references the iconic spherical forms that are the starting point of each of Bocci's designs, with a new typeface by Studjo Frith and produced by Dalton Maag.
The typeface and abstract forms were superimposed over a specially commissioned photography series by Fahim Kassam, expressing the energetic craftsmanship approach of the company and its sleek, ever-evolving products. The new identity combines black and white and colour photography, where the practical becomes abstract, and a glimpse of products and processes. Geometric shapes in a tightly controlled palette of purples, yellows, blues and greens add a sense of abstraction to the new look, giving a new image to the contemporary experimental approach of the brand.
As part of the new launch is also a renewed website, created by creative practice Civilization, which was tasked with giving a practical interpretation to Studio Frith's new identity. A tool to help clients visualise Bocci's products in action, the website offers the same combination of abstract and practical imagery to enhance the tactile nature of the company's designs.