57.157 at Canada House, London, 2015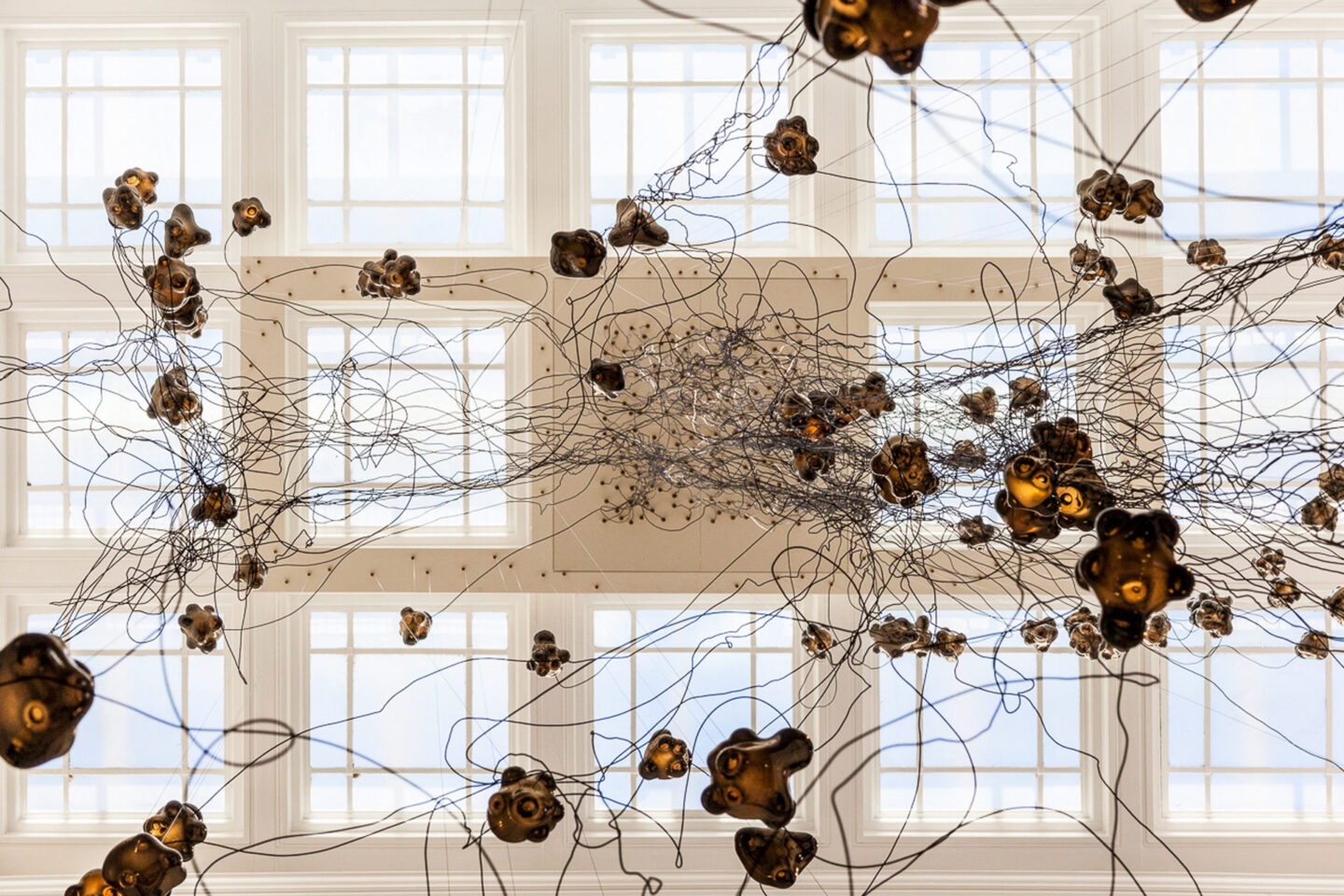 57.157
57.157 is a large-scale light installation designed by Omer Arbel and produced by Vancouver design and manufacturing company, Bocci. Comprised of 157 individual glass pieces, this bespoke installation reflects the abundant natural light in the Canada House stairway – giving visitors a more poignant way to perceive and inhabit this important national space.
Material exploration served as the fundamental departure point for designing 57. "We began with the idea that we can manipulate the malleability of glass based on its temperature," says Omer Arbel.
The novel fabrication process traps voids of air, in different sizes and configurations, within a glass matrix, which is then dipped into mirrored glass to create a cohesive whole. By virtue of their creation, each handmade 57 piece is completely unique. "When the piece is unlit, each piece is mute and loosely resembles a rain cloud in shape," says Arbel. "Once illuminated, an internal universe comes alive."
57.157 introduces stratified layers of reflective, one-way mirrored glass that respond both to each other, and to the ambient light that floods the stairwell. The tension between eye-level pieces and a high tangle of glass and wire creates areas of intensity and relative calm, promoting a more visceral experience of light and space.
"It is a pleasure to be able to feature the work of Canadian talents Omer Arbel and Bocci here at Canada House," says Mr. Gordon Campbell, High Commissioner for Canada. "This heritage building represents our country's front door to the United Kingdom and we are very proud that it will serve as a true showcase of the very best of Canadian design. Our grand staircase, which dates from 1829 is, I would venture, even more grand today thanks to this stunning addition."